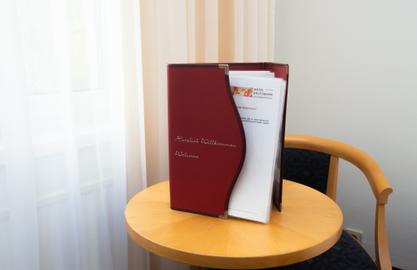 Why to book here?
1. Cheapest rooms always on our website
2. Flexible Rate OR Cheap Best Price
3. Real time room availability & Immediate booking confirmation
4. Direct communication with the hotel
5. Easy to change or cancel
6. Transparent & secure booking conditions
7. Comfortable Reservation
8. No hidden fees
9. Last room availability
Welcome to our hotel
Within walking distance of the famous Gründerzeit mansions of the Ringstrasse, we welcome you at the Hotel Boltzmann in an absolutely quiet and cosy ambience. Our house is situated in the centre of Alsergrund, the 9th District of Vienna, which is the ideal starting point for your tour to explore the main attractions of the city or for your business meeting in Vienna.
Quiet and yet central, charming, chic ambience and a great portion of hospitality - the Boltzmann Boutique Hotel in Vienna is very popular with business travellers and it is also first choice during an exciting city break.
Our 70 rooms are characterised by a high level of comfort, spaciousness and their modern style. Start into the day strengthened by our hearty breakfast buffet and, during the summer months, enjoy your morning coffee served on our bamboo terrace in the quiet courtyard. In the evenings, we open our cosy bar for you, the perfect place to end the day in an enjoyable way or to hold a business meeting.
Our house is named after Ludwig Boltzmann (1844-1906), a well-known Viennese physicist and philosopher. His life's work was the realignment of thermodynamics, during which he established statistical mechanics. Ludwig Boltzmann was one of the co-founders of the Austrian Mathematical Society in Vienna. He found his final resting place in Vienna's Central Cemetery.
---
Enjoy your time in our individual city hotel with its cosy ambience and Viennese hospitality.
---
We are looking forward to welcoming you!
The Boltzmann Team
Content Blocks
What our guests say
"
Quiet comfortable clean room with air conditioning. Very close to University. Friendly helpful staff and breakfast was very good. It was nice having the option to eat breakfast outside
"
"
We have enjoyed staying in Hotel Boltzmann. The service was great and the breakfasts were really nice!
"
"
Hotel with great location, good quality-price ratio and excepcional staff. Definitely a great choice...:)...
"
"
The location was good. The rooms were equipped with what I needed and were comfortable. I would like to thank the staff, who were courteous and helpful whenever I needed their help or made requests concerning my room.
"
"
Very pleased with our stay here. We were able to check in early, our room was upgraded and the staff were all friendly and very helpful. With family currently living in Vienna, we won't hesitate to book this hotel again on our next visit. Thank you for a pleasant stay.
"
Read more opinions
3 reasons to stay with us
Hearty breakfast in the hotel
Austria Centre Vienna are 10 or 15 minutes away